Comments: 0 - Date: July 7th, 2009 - Categories: Uncategorized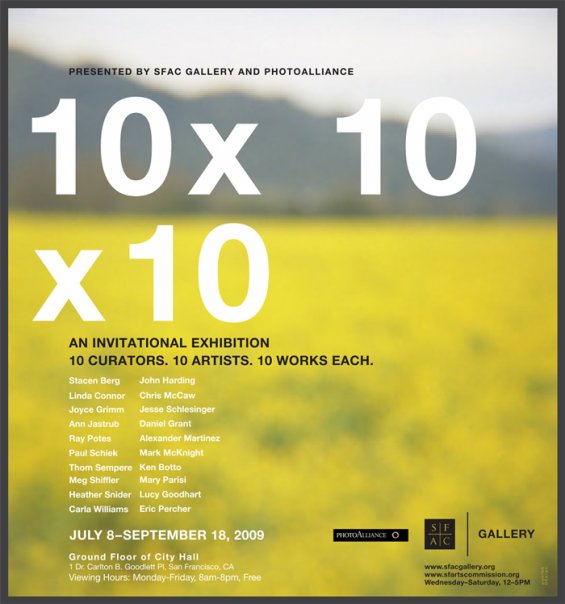 Wednesday, July 8, 2009
San Francisco City Hall Lower Level PUBLIC RECEPTION held Wednesday July 8, 5:30- 7:30
5:30 pm
PhotoAlliance and the San Francisco Arts Commission Gallery are pleased to present 10 x 10 x 10, an invitational exhibition with 100 works of art on the ground floor of San Francisco City Hall. For this exhibition, 10 local arts professionals selected a photographer that they felt deserved greater attention and support. The 10 artists that were invited to participate will exhibit 10 photographs that were chosen through a discussion with their curator. The curators also submitted a statement about the significance of their artist's work, and the reasons behind their appreciation.
The photographs in this exhibition are an eclectic mix of images ranging from raucous street photography to sublime landscapes, and from elegant portraits of meat to bleak images of corporate America. 10 x 10 x 10 marks the third annual large-scale exhibition collaboration between the SFAC Gallery and PhotoAlliance.
The opening reception is tomorrow night beginning at 5:30. I will be there for sure as my friend Mark Mcknight was picked by Paul Schiek and has work in the show. I am also looking forward to seeing a bunch of pictures by artists that I had not heard of until now. Way to go Photo Alliance for a great idea!